Last updated: 15th November 2017
---
Vice Chairman
Bijoy Bhattacharjee
Vice-Chairman
(Chief Executive Officer)
I am happy to welcome you to the web-site of Export Promotion Bureau (EPB) Bangladesh, the export promotional organization of the country.

As National Export Trade Promotional Organization the Export Promotion Bureau under the Ministry of Commerce is providing support to its stakeholders concerned with the export sector of this country in the field of Product Promotion, Product diversification, inclusion of new products in the list of export products basket, adoptation of policy and programme for active promotion of export. It also conduct studies, surveys, research etc. On product and market, coordinate and monitor national export progress, makes arrangement for information collection, compilation and dissemination, exploration of market abroad etc.

One of the important objective of EPB is to equalize thinking with the needs of the respectable importers and others those who are somehow involve in export business by taking advantage of information Technology. Keeping this in view EPB has developed this Web-side considering the needs of our clients. We have designed this site to make it more informative, attractive and colorful wherein, apart from availability of information of EPB itself, various information like export policy, statistics, export directory, products based information and different publications as well as international trade queries are available. Exporters-importers can easily collect product information logging on Business Query link of the website.
It is firmly believed that the Web-site would contribute significantly towards expansion of trade & commerce and providing necessary information to the foreign investors/buyers of the country. I am convinced that there are huge scopes to improve this site further. Improvement is a continuous process and we are working in it. EPB earnestly welcomes valuable suggestions/advice and feedback from all stakeholders and visitors for further improvement of the Web-site.
Hon'ble Minister
Secretary
Mr. Md. Mofizul Islam was born in a renowned Muslim family at Satarkul...
Vice-Chairman
Central E-Services
Emergency Hotline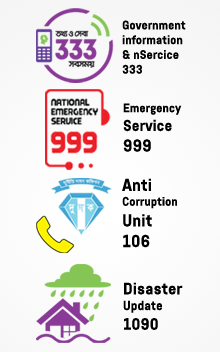 Innovation Corner
Social Media